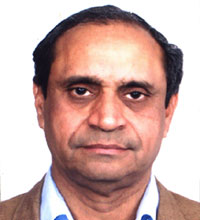 PROF. P.V. RAO
Visiting Faculty
Prof. P.V. Rao obtained M.A. in Political Science from Osmania University, with a first division; M.Phil and Ph.D in European Studies from School of International Studies, JNU. He was awarded the British Council Scholarship at London School of Economics for research; Fulbright Post-Doctoral Fellowship at the School of Advanced International Studies (SAIS), Johns Hopkins University, Washington; Ford Foundation Fellowship at Bandarnaike International Centre, Colombo.
Prof. Rao's areas of research interest include Regional Trade Systems; SAARC; Maritime Studies; South & Southeast Asian political and economic relations. Prof. Rao published six books including Indian Ocean: Annotated Bibliography; Regional Cooperation in Indian Ocean; India and Indian Ocean; India and Australia, New Horizons; India and ASEAN: Partners at Summit; Directory of UGC Area Study Centres.
Prof. Rao is the founder Editor of Indian Ocean Survey, a biannual international journal, now being published by the Routledge, UK. He published over forty research articles in Indian and foreign journals. Prof. Rao was the Director of Centre for Indian Ocean Studies, Osmania University; Member, UGC Committee on Area Studies; Member COM, Indian Ocean Research Group, Perth. He regularly lectures at College of Air Warfare; college of Naval Warfare and several other academic institutions.