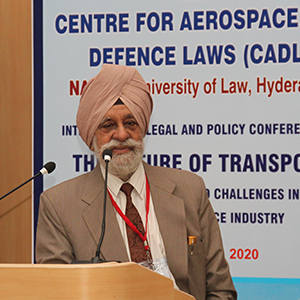 PROF. (DR.) G.S. SACHADEVA
LL.B., M.PHIL, PH.D. (JNU) - ADJUNCT PROFESSOR
Dr G.S. Sachdeva has joined NALSAR as an adjunct professor. He has an illustrious academic background, having been a gold medalist in LL.B. from Nagpur University, Nagpur (Maharashtra), and has vast experience in teaching and research. Dr. Sachdeva has done an M.Phil as well as Ph. D from Jawaharlal Nehru University. New Delhi. He is also Adjunct Faculty and Guest Faculty for Air and Space Law at the Centre for International Legal Studies, School of International Studies, at Jawaharlal Nehru University. He is also empanelled as a Teaching Resource Person for International Law and Air and Space Law at the Indian Academy of Diplomacy and International Law under the aegis of the Indian Society of International Law, New Delhi.
His earlier appointments include his appointment as honorary faculty for Air Law, National Institute of Aviation Management and Research (NIAMAR) under Airports Authority of India, New Delhi. He has also been visiting faculty for Environmental Law at the Centre for Environmental Law, WWF, New Delhi.
His rich experience as a researcher in International Law, especially in International Air and Space Law has made him a prolific writer. He has authored two books—International Transportation—Law of Carriage by Airas well as Outer Space: Security and Legal Challenges. He has also written a monograph titled Space Tourism—Industry of 21st Century, which has been published by the Foundation for Aviation and Sustainable Tourism (FAST), New Delhi, 1999.