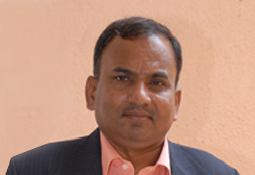 PROF. G.B. REDDY
Visiting Faculty
Professor of Law, Osmania University. Hyderabad
Dr.G.B.Reddy is a lawyer turned academician. Studied B.A. (HPP), LL.B., and LL.M. (Constitutional Law) at Osmania University, and P.G.Diploma in Human Rights from University of Hyderabad. Obtained Ph.D.in Law from Osmania University in 1999 on the topic "Supreme Court and Judicial Activism – Its Contribution in Specific Areas of Constitutional Law after 1980". His area of specialization is Constitutional Law in LL.M. and Judicial Activism in Ph.D. He specialized in the area of Intellectual Property as an independent researcher, publisher and teacher.
He has had a brilliant academic record with three Gold Medals in LL.B. and one Gold Medal in LL.M. apart from being the first candidate to have qualified for UGC-JRF in Law from Osmania University in 1993.He practiced in the High Court of Andhra Pradesh for about seven years before joining the faculty of law, Osmania University. He authored 20 well received books on law including Women and Law, Intellectual Property Rights and Law, Copyright Law in India, Practical Advocacy of Law, Right to Information and Law and Judicial Activism in India. Two of his books namely Women and Law and Judicial Activism in India have been reviewed favourably in the Book Review section of the Hindu by Justice V.R.Krishna Iyer. He also published 54 articles on law published in standard national and international journals.
He worked as the Principal, University College of Law and Head, Department of Law, Osmania University, Hyderabad from April 2005 to May 2008 during which period he introduced LL.B. Five Years Integrated Course at University College of Law and P.G. College of Law, Osmania University and LL.M. (IPR), LL.M. (ADR), and LL.M. (ITEL) and P.G.Diploma in Cyber Laws. He has been a visiting faculty at several reputed institutions including the A.P. Judicial Academy, A.P. Excise Academy, CCRT, NAARM, A.P. Police Academy, National Police Academy, NALSAR University of Law & ICADR, National Industrial Security academy (NISA), Academic Staff Colleges of Osmania University, Acharya Nagarjuna University, Bangalore University, VIT University, IIT, Kanpur and University of Hyderabad. He was the Co-Convener of the APLAWCET &PGLAWCET for 2014-15.
At present he is officiating as Joint Director, University Foreign Relations Office, Osmania University and as Director of the Legal Cell of the University. He was appointed as a member of General Council of NALSAR University of Law, Hyderabad (for the period 2011-2014), A.P. State Consumer Protection Council (for the period 2010-2013) and the Hyderabad District Legal Services Authority by the Government of A.P. He is a Life Member of the Indian Law Institute & the Institute of Constitutional and Parliamentary Studies, New Delhi and the American Studies Research Centre, Hyderabad (presently OUCIP).He participated in several National and International Seminars, Workshops and Conferences on Law and allied subjects and visited Japan, Malaysia, Hongkong and South Korea.