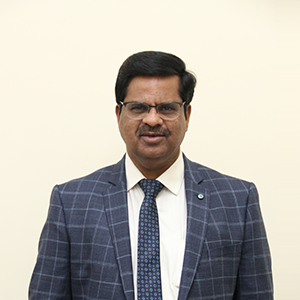 PROF. (DR.) V. BALAKISTA REDDY
LL.M., M.PHIL, PH.D. (JNU)
Professor of Law, Registrar, Head of Centre for Aerospace and Defence Law (CADL), NALSAR University of Law, Hyderabad.
Dr.V.Balakista Reddy obtained his LL.M in International Law from Osmania University and M. Phil. and Ph.D. in International Air and Space Law from Jawaharlal Nehru University (JNU), New Delhi. He has more than 15 years of Teaching and Research experience.
An internationally recognized expert in Air and Space Law, Dr. Reddy presented papers on "Aerospace Technologies and Problems of Third World Countries" and "The Application of Satellite Technologies in Civil Aviation: Emerging Legal Issues" at the UNISPACE-III conference held at Vienna, Austria. He also participated and presented a paper on International Trade Law and Developing Countries at the UNITAR/WTO Workshop on International Trade at UN Headquarters, New York. Besides, above UN Conferences, he has also participated and presented papers in many National and International conference and workshops.
A prolific writer, Dr. Reddy has contributed extensively to various national and international journals on different facets of International law. His books on, (1) Air Law and Policy in India (2) Recent Trends in International Space Law and Policy and (3) Emerging Trends in Air and Space Law, (4) Space Law and Contemporary Issues have won international acclaim. He is Visiting Faculty to many Universities in India and abroad.
At present, he is engaged in various prestigious projects and assignments, which include the WTO and India: Issues and Challenges, Drafting of Model Space Legislation for India and Sensitization Programme on WTO/GATS and Globalization of Legal Profession: Opportunities and Challenges for Indian Legal Fraternity.
Beside, supervising of M. Phil and Ph.D. students, Dr. Reddy teaches L.L.B. and LL.M. Courses at NALSAR, which include International Law, International Trade Law, International Air and Space Laws, International Intellectual Property law, International Banking and Insurance Laws, Comparative Corporate and Competition Laws, International Environmental Law, and International Humanitarian and Refugee Laws.